Tattoo spraying tools are considered one of the great helpers to help you create great works of art. Therefore, choosing the right tattoo tool is essential. And you are often advised to choose tattoo spray tools of clear, quality-assured origin. Nor should choose cheap tattoo spray tools.
So why not buy cheap tattoo spray equipment? And Miss Tram Academy Find out with the article below.
Why Don't Buy Cheap Tattooing Equipment
In Cosmetic tattooing profession, customer safety factor is extremely important. Only a small mistake makes customers have negative reviews to you. And that is also the reason why potential customers stay away from you. There are many factors related to customer safety. And tattoo spray equipment is one of the important factors but often overlooked.
Maybe, you are someone who has just graduated from school and started with this job, so you want to find cheap tattooing equipment to save costs. But, are you sure you won't have to change to another tattoo sprayer in a short time?
Is "true money" really true?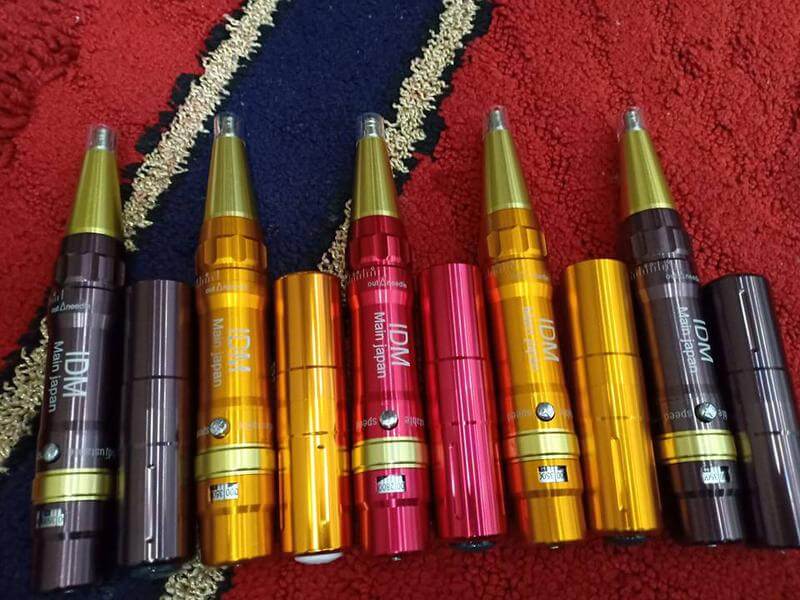 You've probably heard the saying "What is your money?" That means that with the money you spend, you will receive high quality and guaranteed products. On the contrary, low-cost items are often poor quality products.
Of course, there will be some cases that are not true to this statement. For example, a set of high-end clothing can give you a luxurious, fashionable look. But with a casual suit, you can still look very fashionable if you choose and combine it.
But there are certain items you need to invest in worthy costs. For example, a laptop or a gym shoe.
Or for professional makeup professionals, they will never buy makeup products of unknown origin. Because they can cause allergies in their skin. Have you seen why not buy cheap tattoo equipment?
When you buy a product, it is cheaper than the market. You should understand the intentions behind that price. Can they be evading import taxes? Exploiting labor? Or use low quality materials?
Why not buy cheap tattoo equipment?
They are not safe:

Spraying tattoo art invades the human body more than hair or makeup. You use needles and ink to create lesions on the skin surface even if they are shallow or deep. When you buy cheap tattooing equipment from poor manufacturers, this can pose dangers to your own health and safety and to your customers.
Their service life is short: If you intend to purchase a tattoo sprayer, make sure that their shelf life can be maintained for as long as possible. Low-cost products often use poor quality materials and negligent and mass production processes, and are not guaranteed of quality. If you intend to save money when shopping, but if you have to replace them every year, you really don't save anything. Sometimes it is far more expensive than buying a quality product.
They don't give you confidence: You will have to use these tools daily and for a long time. So you need a tool that gives you the best feeling when you use it, giving you more confidence to work. And with cheap tools, they are usually light weight and the structure is harder to use.
They can lead to mistakes: Accidents happen all the time and your task is to avoid that happening at all costs. If you use a product, it does not help you do the job best and there are problems in the process. Making customers have a bad experience, that's what leads potential customers to ignore you.
Should I invest in quality products when I first started?
If you are a novice and want to open your own shop. Now your budget may be weak. And you want to invest in cheap tattoo injection equipment that fits your current budget. Later when your store has a stable number of visitors will invest later. This is completely wrong notion.
As mentioned above, cheap tattoo kits can make customers unhappy or make serious mistakes. But for a facility that has just come into operation, finding customers is especially important. If you do not do everything to retain your customers and your brand, your business may be in big trouble.
In short, if you want to maintain stability in your work as well as bring satisfaction to customers, you should invest yourself in quality tattoo equipment, suitable for purpose, need for use. Your application.
With the share of Miss Tram Academy Hoping above can hopefully help you to answer some questions why not buy cheap tattoo equipment. If you have any comments, don't hesitate to share with Miss Tram.